Are you visiting ITS 2014 in Hamburg from 16-20 June 2014? Then be sure to drop by at the VSTEP/Praxis stand (n° 76) for a firsthand experience of the NAUTIS Tug & OSV Simulator and take it for a spin.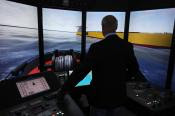 demonstrate NAUTIS integrated Tug & OSV simulator solutions at stand 76.
To schedule a personal appointment and a demonstration/test drive of the NAUTIS simulator at ITS, contact our representative, Ms. Laura Wern
The International Tug Salvage & OSV Convention (ITS) 2014 is hosted in the Hamburg CCH Convention Centre and is a much-anticipated conference and exhibition, remaining a must-attend event in the industry's calendar with an anticipated 100+ exhibitors expected. ITS attracts the key players in the business from across the globe, and provides a unique opportunity once every two years to meet and do business.
VSTEP is the developer of the NAUTIS maritime simulators. NAUTIS allows training in full accordance with the latest design criteria, class and IMO requirements and includes a full range of simulators, from Tug & OSV  to Full Mission Bridge. A top of the line, cost-effective training solution that caters to the training requirements of nautical colleges, naval academies, maritime training centres and individual ship owners worldwide. VSTEP has its headquarters in Rotterdam, with a worldwide partner network in 20 countries.
At the ITS 2014, VSTEP and Praxis Automation Technology BV will
er at laura.werner@vstep.nl – For more info about VSTEP and its NAUTIS Maritime Simulators, visit www.nautissim.com – For more info about Praxis Automation Technology BV, visit www.praxis-automation.nl – For more info about the ITS 2014, visit www.tugandosv.com/its2014-introduction