La Escuela de Entrenamiento Marítimo ROC Kop van Noord (HOLANDA) instala simulador NAUTIS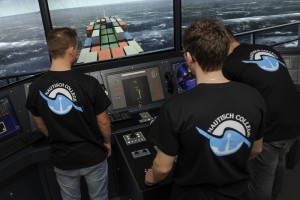 (Above: Students of the ROC Kop van Noord-Holland using the VSTEP Full Mission Bridge simulator)
Den Helder, 13 October 2015 – The Maritime Training School ROC Kop van Noord-Holland has purchased a full simulator centre from VSTEP for its Nautical College in Den Helder. The deal includes three NAUTIS DNV Class B simulators, three NAUTIS Desktop Pro simulators including instructor station and a full Engine Room simulator classroom with 15 trainee stations.
The ROC Kop van Noord-Holland provides vocational courses and training for companies and individuals in the northern part of the province of North Holland, including maritime courses.  The Nautical College is certified by the ministry of Infrastructure, Living environment and Transportation (IL&T) in the Netherlands, which is a requirement for any maritime training institute offering STCW certified courses in the Netherlands.
With the addition of the VSTEP NAUTIS ship bridge simulators, the ROC's Nautical College will enable its students to learn, practice and perfect new ship and boat handling skills through certified training courses in accordance with the latest national and international standards.
To maximize students training in different environments, three new custom environments were added to the existing simulator library. The new environments include the Wadden Islands, the North Holland Coastline and the NIOZ Port which were all recreated for use in the simulators.
The installed engine room simulator classroom on the other hand will allow students to familiarize themselves with the engines on board of contemporary vessels, train with different engine configurations and teach them to solve engine room related problems through accurate simulation.
"The Nautical College now has state of the art simulators", according to Aad de Wit, Chairman of the Executive Board of the ROC Kop van Noord-Holland. "It will, no doubt, further enhance our position as an outstanding centre of excellence in providing education and training for seafarers. By providing optimal training for the growing number of students, the Nautical College caters to the shipping industry's training needs."