La ciudad de Burgas (BULGARIA) abre su Centro de Simulación Marítima basado en NAUTIS
VSTEP selected as maritime simulator supplier for new simulator centre in Burgas.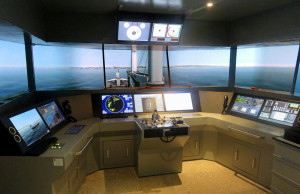 (Above: VSTEP NAUTIS Class A Full Mission Bridge Simulator with wheelhouse and projection system at the Burgas Simulator Centre)
In line with the expansion of the port of Burgas, the City of Burgas and its association of environmental organizations opened a new simulator centre for maritime training in the region. The maritime simulator centre was developed as part of a EU project to provide enhanced training of fishermen and post graduation of mariners in Bulgaria.
As the second-largest city and important port on the Bulgarian Black Sea Coast, Burgas serves as an important industrial and economical hub.  VSTEP was selected as maritime simulator supplier and has delivered and installed a DNV certified Class A NAUTIS Full Mission Bridge Simulator with 240° projection view at the facility, as well as an instructor station and debriefing area for after action review.
Prior to the opening, the DNV certified simulator also passed approval by the Bulgarian Maritime Administration. The VSTEP full mission bridge simulator will provide training for ship handling, ECDIS and bridge team training in compliance with the latest IMO requirements and model courses.
To guarantee the quality of the professional training courses at the new Burgas training centre, a cooperation was started with VSTEP and the Naval Academy in Varna, who will provide professional maritime instructors to assist and evaluate students training on the simulator and will also train the City of Burgas employed instructors to operate the simulator autonomously.
The Naval Academy Varna has a reputation as one of the leading maritime institutes in the region and also uses VSTEP Full Mission Bridge simulators for training of its students.