El Instituto De Tecnologias Marítimas y Pesqueras de Corea del Sur (KIMFT) simulador NAUTIS FMB y de escritorio.
A NAUTIS Desktop Trainer classroom and two class A NAUTIS FMB simulators were purchased by the Korea Institute of Maritime and Fisheries Technology (KIMFT) in Busan, South Korea. All simulators are part of the upgraded maritime simulator training wing at the Busan Campus.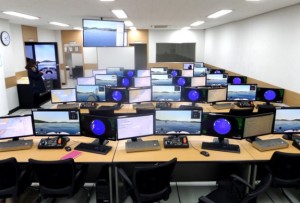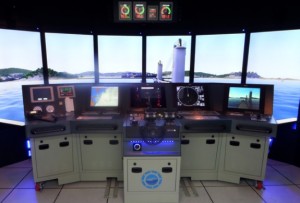 The KIMFT was formed in 1998 from the merger of the Korea Fishing Training Center with the Korea Maritime Training and Research Institute and is one of the leading Maritime Universities in South Korea.
The KIMFT purchase includes two NAUTIS Class A Full Mission Bridge Simulators and instructor station, as well as a classroom of 12 NAUTIS Desktop ECDIS/Navigation Trainers. NAUTIS is a new generation of DNV certified maritime simulators developed by VSTEP. The simulators were delivered and installed at the KIMFT premises by NAUTIS developer VSTEP and its Korean partner SamWooSoft Co., Ltd. The simulators provide students at the university with the latest in advanced DNV certified maritime simulation technology.
Dae-Hee Kim, SamWooSoft CEO: "We are very happy with the NAUTIS simulators provided by VSTEP. The open architecture of NAUTIS allowed us to develop many customizations that were requested by the client in a limited amount of time. The bridge lay-out was changed during the implementation a number of times on client request, and we added several touch display panels with nautical instruments for which we developed the software locally. For the project, a series of 3D models of Korean ports were developed by the VSTEP and Samwoosoft 3D modelers in a short time frame, with a high level of quality."
The FMB simulators are equipped with an additional NAUTIS Tug module, allowing realistic tug training in addition to the DNV certified STCW criteria training. The FMB simulators were installed with an innovative system whereby a conventional ship bridge is combined with a tug bridge, on wheels. Using guiding rails, the combined console can be rolled forward for the conventional bridge training, and backwards for the tug training. This set-up provides a wide range of training options in a very cost- and space-effective way.
The NAUTIS Desktop Trainers are high quality portable simulators that allow training of many competencies, including ECDIS Model Course 1.27, and basic ship handling & maneuvering.
For more information about the KIMFT, visit www.seaman.or.kr