Comienza a operar el simulador de Remolcadores más avanzado y realista del mundo.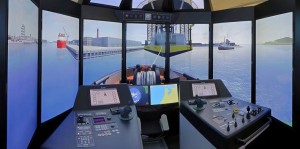 360-Control's new tug and offshore simulator in IJmuiden, the Netherlands, officially opened its doors on Tuesday June 3rd. Around 100 privileged guests saw the Mayor of Velsen carry out the opening ceremony whilst two ASD tugs performed an impressive FiFi display while turning a symbolic 360° circle.
"The 360° simulator is one of the most advanced and realistic tug simulators in the world," comments 360-Control General Manager Menthe de Jong. "We are very proud to be able to present this training centre in this way." 360-Control – a joint venture between Iskes Towage & Salvage and Damen Shipyards Group – has already successfully completed its first (international) training programmes and is now looking forward to further expansion of operations.
Full Mission Simulators
With two NAUTIS Tug & Offshore Support Vessel simulators in comfortable surroundings, the new training facility also offers the additional possibility to train on board a tugboat. 360-Control specialises in training and assessments for Azimuth Stern Drive and Azimuth Tractor Drive tugs. The training programs have been developed by a highly experienced team and focus on the realistic and effective training of seafarers. "The simulator's bridge is equipped with identical tug consoles, navigation equipment and realistic dynamic properties that are to be found on Damen ASD 2810 and 3212 tugs," adds Mr de Jong. "The second simulator is smaller but can be used for the same training scenarios. In addition, the simulators can be linked to recreate realistic scenarios involving multiple tugs."
Sketches for a second 360° full-mission simulator, with a flexible multipurpose bridge arrangement, have already been made. The arrival of such a simulator will implement and develop supplementary training programmes for further towing and offshore vessels. This will provide training services for, for instance, crews of offshore vessels and captains of fast crew supply catamarans transporting maintenance personnel to offshore wind farms.